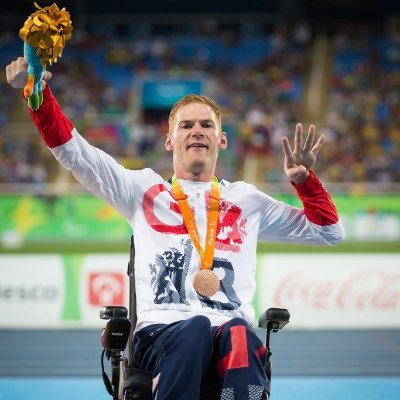 Positive Thinking with a Paralympic Hero
18/01/2023
On 18 January 2023 Founder and Vice-President of PSF Dr. Olesya Zaglada participated in the Zoom Conference Positive Thinking with a Paralympic Hero: Stephen Miller.
Stephen started participating in athletics at the age of 11 and has represented Great Britain for over 25 years, competing in 6 Paralympic Games, 7 World Championships and 6 European Championships – so far winning 34 international medals.
In 1996 Stephen became Britain's youngest ever track & field Olympic and Paralympic gold medallist at the Atlanta Paralympics. He went on to be undefeated in all competitions until 2005 – 9 years in total.
His Paralympic Games Results are really impressing (information from the official website of Stephen Miller stephenjamesmiller.co.uk):
Atlanta 1996 – Club Throw, Gold
Sydney 2000 – Club Throw, Gold | Discus, Bronze
Athens 2004 – Club Throw, Gold
Beijing 2008 – Club Throw, Silver | Discus, 12th
London 2012 – Club Throw, 11th
Rio 2016 – Club Throw, Bronze
Mr. Miller and his wife founded SMILE Through Sport in 2013. The foundation encourages disabled people to participate in sports.
Stephen is very passionate about the power of positive mindset. It helped him in his life and career to not only have great success over long period of time but also "to really enjoy and embrace the challenge of what I do day by day". Stephen mines that it is extremely important to find a joy in what we do every day and then we can discover positive thinking and positive mindset.
During the webinar Stephen Miller shared with its participants his unique experience of the winner about the power of positive thinking, which has enabled Stephen to have such an impressive successful career. The online meeting was very inspirational. Stephen had so much positive energy and shared it with the participants.
He has also done meditation and shared his overwhelming energy.
In his opinion, a positive thing is not about trying to be happy all the time, it is not about being overly optimistic and always expecting great things to happen. Positive thinking is about acceptance, honesty and humility, it's about how we can find a way to give ourselves a growth and platform in life. Stephen believes that everybody has the power to develop and maintain a positive mindset. It's about what we chose to believe about ourselves and our environment, how we chose to use our time and energy. Positive thinking is about how we can focus on these choices and make positive decisions and take positive actions. For Stephen there's three key elements of a positive mindset: awareness, balance and consistency. Consistency in our actions and our decisions, to be disciplined and to build positive habits and positive routines. A positive mindset does not just happen, it takes practice to make our mind work the way you want it to work. To get a fit body that is strong you have to train your mind to work the way you want it to work. So by developing positive habits and routines we can develop a mindset that can be resilient and adaptable to change.
Stephen believes the most important thing that has helped him to have secure longevity of success is developing a really good ability to quickly accept what happens in his life and learn from the experiences and move to the next challenge. Stephen assumes that the most successful and happy people in life are the people which can quickly accept what happens to get our energy into what's happening right now. Positive thinking will help us to do that.
To overcome negative thoughts we have to be:
Prepared (distraction strategies)
Engaged (embrace the moment)
Focused (channel the energy).
Preparation helps us to develop competence and confidence which helps us to overcome fears of failure and rejection, the main things which can hold us back in life. And being engaged helps us to be focused.
This approach helped Stephen to win many medals at the international competitions and Paralympic games and helped him not to become a victim of environment and circumstances.
In accordance with Stephen one of the key elements to positive thinking and to achieve great results we have to be is how we can develop resilience. Stephen has been asked a lot how he has been able to keep competing at the highest level for over 4 decades and to maintain his motivation. The answer is that Stephen has been able to develop resilience (the ability to recover quickly from difficulty; toughness).
Life has good times and bad times, it is important not to give up and keep going, to have sharpness in order to get through the hard times of struggle.
For Stephen the resilience is about 3 things:
Stability, plus Adaptability, plus Opportunity.
There are 3 questions regarding resilienceWho?/What?/How?
Who do you aspire to be? (Values)
What kind of person do you want to be? (Purposes)
How can you become who you want to be and do what you want to do? (opportunities).
The roots of resilience tree are: Responsibility, Respect, Honesty. The trunk is: Family, Friends, Work, Community, Self).
We are what we do and we become what we practice. Stephen thinks that the more we can align our actions to our values and our beliefs, that is how we can develop resilience and get through hard times.
The final part of the session was goal setting, which can give us aspiration, purpose and direction in our life.
The four steps are:
1. Get set. We need to have a big dream. After that we can begin to break it down into little goals that we can do day by day.
2. Get started. On our way we need to embrace challenges and go outside of our comfort zone – the best way to grow. We can always find good in the bad. We need to embrace failure as failure is the best opportunity to learn.
3. Actions. We need to be proactive, intentional, and take action that drives you forward.
4. Learning. We should always be curious, be interested in what we do.
We always have to be prepared to adapt and change. Success is not a straight line. It will take lots of repetition before we see results.
Positive thinking and positive mindset does not happen because we want it to happen, it's a practice, day by day.
Stephen has created four short videos on the topics covered during the webinar:
https://www.bocciaengland.org.uk/hear-from-others
The news was published with the consent of Stephen Miller to Olesya Zaglada given at the conference.